February 4, 2013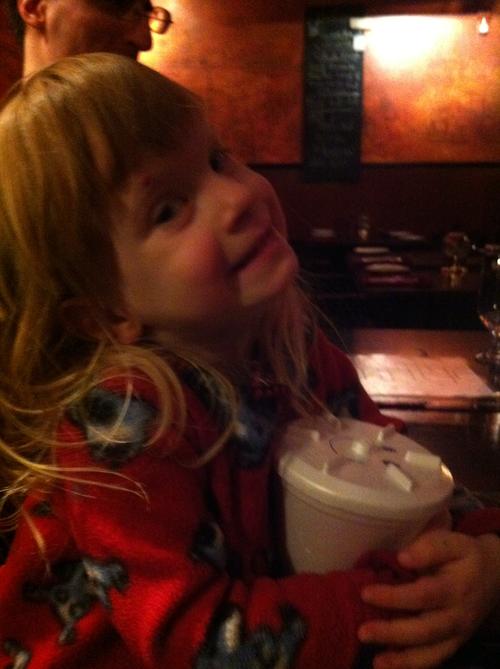 Angie took us all out to dinner at Flying Piggy's, which is a rather nice Italian restaurant.
Elizabeth was very taken with the decor - there are pictures and statues of flying pigs all over! She couldn't quite finish all her linguini, but when asked whether she'd like to take it home was quite enthusiastic. "Suuure!", she said. The take-home container was adorable, as was Elizabeth, who hugged it gleefully. Elizabeth was happy to share my flourless chocolate cake for dessert, though she did wonder how we could be at a restaurant that *didn't* offer M&Ms (I realized anew that we must frequent Swiss Chalet too often!)
Elizabeth wanted to know if the owner had ever seen a real flying pig. I think flying porkers would be rather alarming, but Elizabeth thinks there ought to be some somewhere! She's now the proud owner of the owner's business card complete with flying pig. Elizabeth has carefully tucked it into her coat in order to make sure that she has it with her "for next time".
1
On February 8, 2013 at 10:09 pm
Grandpa H
said:
Thank you Angie! And - considering the lateness of the hour, Elizabeth's good humour and exemplary behaviour are to be commended.
2
On February 15, 2013 at 11:44 am
Janice
said:
I'd share your flourless chocolate cake too... ;p



I saw a Valentine's flying pig stuffed animal at one of the card stores...
You might also like
- First Restaurant Order
(0.365325)
- Karate Book Club: A wrinkle in Time
(0.344516)
- Piano Recital
(0.344333)
- Great Glebe Garage Sale
(0.341226)
- Thanksgiving
(0.339411)
All