February 7, 2013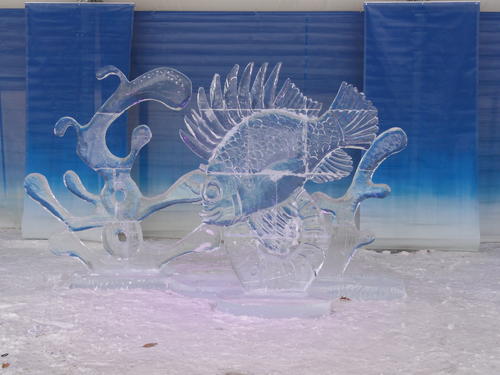 Elizabeth, Angie and I went to check out this year's crop of ice sculptures. The cold temperatures have kept the statues all in great condition - sometimes by the second Winterlude weekend all the delicate carvings have curved into strange shapes or crashed to the ground.
I still don't like the "new" way they are displaying the sculptures, but at least this year we weren't trying to push a stroller through the muck and we weren't competing with hoards of other visitors to see them. The tents may protect the sculptures but they are not the most beautiful photo backdrop ever - in fact they are quite ugly!
The festival continues to experiment with alternative "weather-proof" sculptures, most of which I quite liked. There were lots of statues and lanterns from South Korea, but the real theme was apparently illumination as most of the non-ice art work allegedly glows in the dark. Elizabeth and I found the canvas bag "raindrop" windchime things quite compelling - they inflated and deflated in the wind and you could walk right in between them. I was less excited by "Gulliver's cat" - maybe all those strings look more interesting at night...
You might also like
- Art Day
(0.356913)
- Three at a time
(0.346821)
- New doctor
(0.346065)
- Auntie Muriel
(0.343268)
- River Oak
(0.342331)
All