February 16, 2013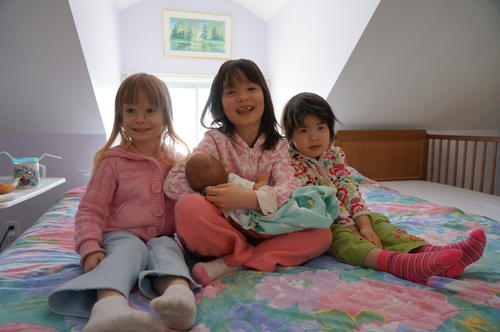 Matthew had his first bath today! Elizabeth was very happy to help. She's a very good helper, loves choosing Matthew's clothes and getting things ready for diaper changes. Not to mention checking whether his diaper actually needs changing. Too bad she's just a bit too small to actually do the diaper changes!
Elizabeth seems to have adjusted very well to "her" Matthew's arrival, except when we have visitors. She usually can't wait to play with her cousins but did NOT want them to come see Matthew. When they arrived she sulked and tried to prevent them from getting to hold him, but she did warm up enough to take a cousin photo.
When Laurence the midwife arrived to take out my staples the girls were quite happy to go and play in the basement, all thoughts of jealousy forgotten. Matthew has made it back to his birth weight. Midwives like babies to gain at least 20 grams per day. Matthew is currently averaging 75. We don't need to keep track of his feedings, pees or poos anymore.
1
On February 22, 2013 at 09:10 pm
Uncle Dave
said:
You guys are taking some awesome pictures of the little guy :) I especially like the super-wide shot of Matthew on Elizabeth's lap! :)
2
On February 25, 2013 at 06:15 pm
Rachel @ Grasping for Objectivity
said:
That's so precious. The pictures really are quite amazing!
You might also like
- Epiphany Back to School
(0.370851)
- Rainy day
(0.365217)
- French Class
(0.361842)
- January Duty day
(0.360515)
- Rube Goldberg
(0.35781)
All