June 4, 2009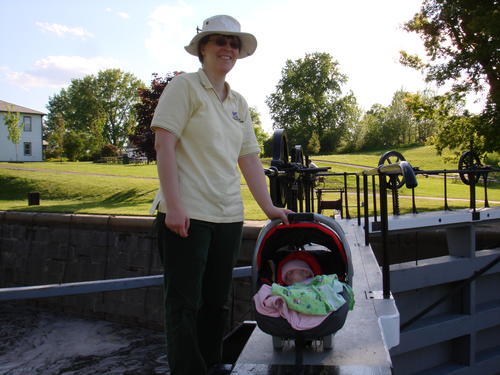 Elizabeth is battling her first cold, and as a result spent the last couple of days coughing, eating and sleeping in frequent short bursts. She sounds miserable and it is heartbreaking that I can't do anything at all to make her feel better.
Ottawa is pretending that it has remembered what proper June weather looks like, so Elizabeth and I decided to go for a walk in the hopes that the motion would help her get a proper nap.
My mom and Aunt Mary came too - we walked all the way around Dow's lake and through the Arboretum! Oh - and no, I wasn't threatening to throw her in the Ottawa Canal - we had to dismantle the stroller to get it across the locks! It was a lovely walk and Elizabeth seems a bit better tonight. She even more or less behaved when a long-time family friend dropped by from Collingwood to see her.
1
On June 6, 2009 at 00:37 am
Stephanie
said:
Poor little girl! It just breaks my heart when my kids are sick. Fortunately, no one has been sick in our house since my pregnancy. I'm hoping for many more months/years of wellness. :)



Get well soon, Elizabeth.
2
On June 6, 2009 at 12:28 pm
Yukiko
said:
Please ask your aunt to visit us to see Maria if she is still in town!



Tomorrow will be Elizabeth's big day, so please take care of yourself (yourselves??). We look forward to seeing you at the reception!


3
On June 12, 2009 at 10:10 pm
Auntie Janice
said:
The lowest set of locks are wider, because the bike path cuts across them. I learned this after carrying my bike precariously across a narrow one and then realizing my mistake. oops!
You might also like
- Auntie Muriel's
(0.350825)
- Extended family Christmas
(0.349711)
- Music Recital
(0.338608)
- Canal
(0.3375)
- Mastitis
(0.334307)
All