March 23, 2013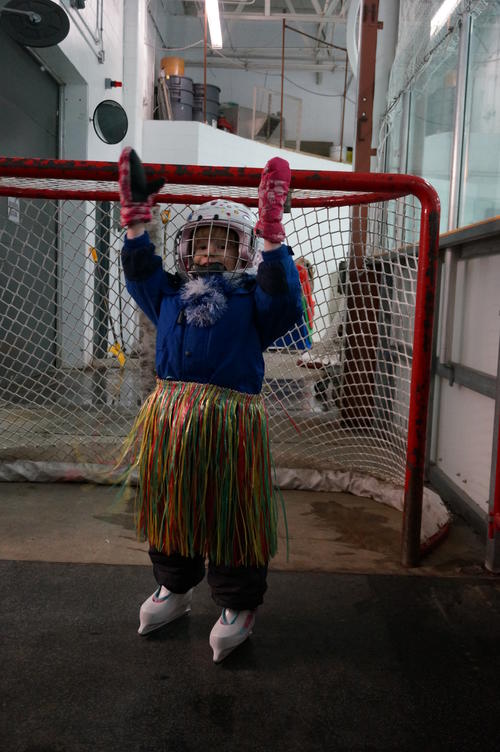 After Elizabeth's last skating session, her instructor advised that we enroll her at St Laurent as their program involves more kids. This allows them to subdivide based on skill as well as age. We were pleased to discover the kids already all knew how to skate and there was no glaring disparity. It was a bit overwhelming though; there must have been nearly a hundred students on the ice that first week. Strangely the numbers dropped off dramatically. Elizabeth's class started with 11 kids in her class, but by the last couple of classes there were only two or three of them left.
Elizabeth spent much of the first few lessons paying very little attention to her teacher - she has a tendency to be distracted by her surroundings and just wanted to watch what the other kids were doing. She also moaned a great deal about how she preferred her "old" skating teacher.
We found that her confidence improved a lot during this set of lessons, as did her speed and stopping ability.
The arena is a bit more ambitious with the kids than Jim Durrell, organizing a skating "show" for the last class in addition to the family skate day. I was a bit frightened when they sent home a letter with detailed costume request, but luckily instructor Amy came to the rescue and I didn't have to do anything beyond convincing Elizabeth to put the grass skirt on. (That was actually not as easy as you might think!) Elizabeth was decidedly unenthused about the "dancing" aspects - she didn't see the point to waving her hands around and categorically refused to get down onto the ice at the end. She finds falling down very embarrassing, so I guess that while she is very able to get up and down in a controlled manner she doesn't think that is proper skating!
You might also like
- Music
(0.421756)
- Skating
(0.421281)
- Party Day
(0.419456)
- Summer school
(0.415166)
- Skating
(0.413655)
All