March 25, 2013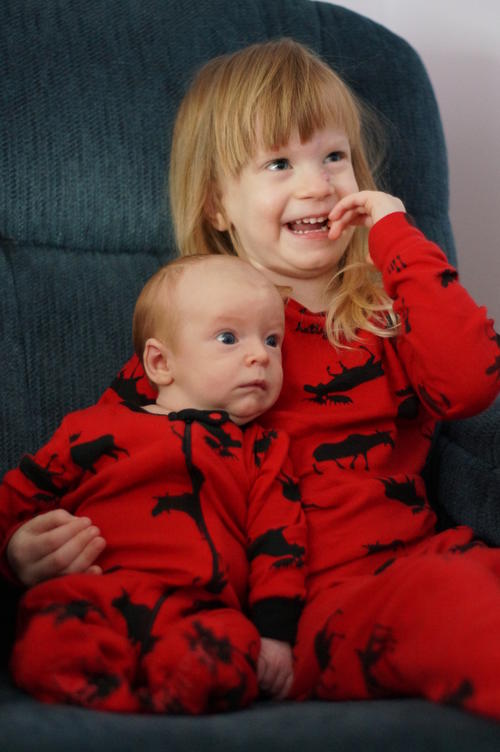 At six weeks, Matthew is now wearing 3 month size clothes. Most of the day he is delightful. He's slowly getting more alert and loves to bat at various toys that his sister gets for him. Elizabeth adores him. She likes to brush his hair and pick his clothes and generally speaking treat him like a living doll.
Having reached peak fussiness age, it's predictable that Matthew is now a bit "fussy". And by fussy I mean that he cries rather inconsolably. We dubbed Elizabeth Captain Crankypants at this age, so I'm pretty sure that Matthew is not as bad. Erika introduced us to a real fussy baby nearly seven years ago (eek!) so we are quite aware things could be much worse! It also helps that we are much more experienced with soothing fussing babies.
However, it is true that from about dinner time at 5pm to whenever he passes out in sheer exhaustion at 8pm, Matthew screams on and off no matter what anyone does. All he wants to do is nurse, which makes it tricky to figure out if he's actually hungry or just so gassy and uncomfortable that he's prone to spitting up everywhere.
1
On April 3, 2013 at 09:45 pm
Rachel @ Grasping for Objectivity
said:
He is SO precious!! I Love those pictures, and am so glad that Elizabeth is enjoying him. And matching PJs are my fave.
2
On April 3, 2013 at 10:32 pm
Yukiko
said:
Yes, Erika cried a lot around six weeks old, but according to our Mother-in-law, Chris was even worse. We are very lucky that we are not Baby Chris' mothers ... ;)


You might also like
- Michael at 1 month
(0.366042)
- 2 weeks old
(0.365014)
- Two months old
(0.361433)
- 3 months
(0.358316)
- Amelia 21 months
(0.356674)
All