March 29, 2013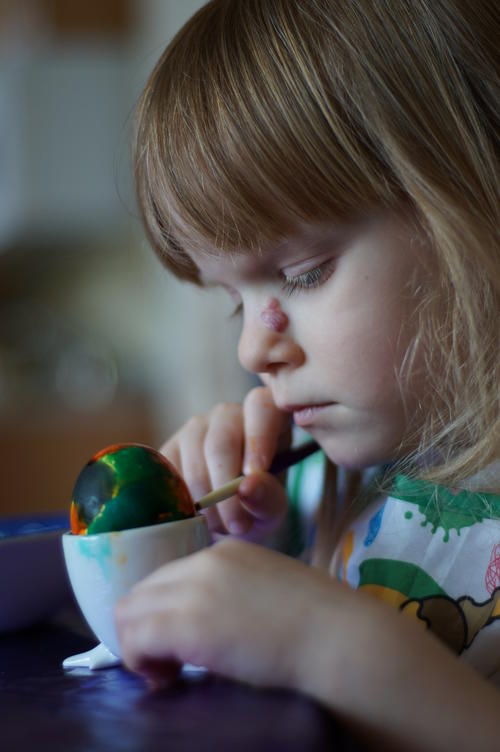 Erika and Maria came over to help us decorate eggs after church on Good Friday. As usual, we used Ukrainian wax techniques and natural dyes. We had 19 eggs to decorate this year!
The girls still used food colouring as I figured they weren't quite up to handling fire and wax. Erika promptly proved me wrong as she quite competently used both for her third egg. She's clearly ready to ditch the food colouring next year - I guess we should get some more wax pens! Elizabeth and Maria less so, but both enjoyed helping Auntie Janice write names on the eggs they decorated. Erika's food colouring decorating technique also got a lot more sophisticated this year - she painstakingly painted a striped pattern on one egg and splatter-painted the other. Quite a switch from the haphazard brush strokes from last year!
In addition to the coloured eggs, we also made resurrection rolls and my version of tea eggs again. The best part about making tea eggs is that you actually WANT to crack the shell. Elizabeth particularly enjoyed that!
My recipe for tea eggs:
1/4 - 1/2 c of gluten free soy sauce
1 tsp cinnamon
2 Tbsp loose leaf black tea
1 tsp black peppercorns
Original recipe also calls for 2 anise star pods, 1 Tbsp Eleuthero root and 1 tsp of licorice root. I added three black jellybeans instead last year but that's about as close as I got...
Boil eggs for 3 minutes. Remove from heat and rinse in cold water.
Gently crack eggshells with back of spoon (this makes the pattern)
Place cracked eggs in pot. Cover with water and add other ingredients.
Bring to boil. Lower heat and simmer for at least 40 minutes. Eggs should always be at least partially submerged, so add water if necessary.
Original recipe suggests placing in refrigerator overnight, but we are always too impatient and ate them immediately.
1
On April 7, 2013 at 01:06 am
Yukiko
said:
Just to wait! I'll draw your portrait next year! ;)
2
On April 8, 2013 at 10:42 pm
Joanne B
said:
Mary, your blog is very fabulous! What a great way to record your activities with your family as they grow. It sounds as though you had a good Easter celebration. I have a few little things for Elizabeth and Matthew so I'll send them with your parents when they are here on Apr. 14.

You are doing such an awesome job of parenting! Keep up the good work!
You might also like
- Happy Easter!
(0.40691)
- Nationals
(0.375643)
- Good Friday 2015
(0.374425)
- Camping!
(0.372803)
- Sportball
(0.37193)
All