June 7, 2009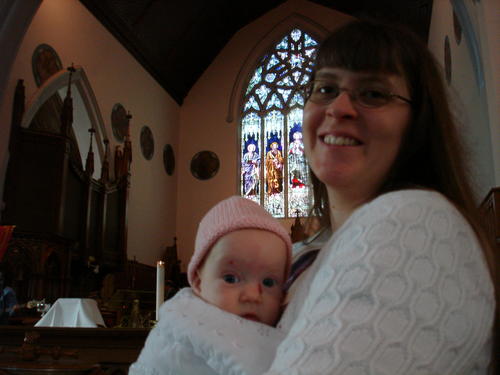 Elizabeth was baptized today and as such she has now officially been received into Christ's Church. Neither Brendan nor I were baptized as infants (I was seven and Brendan was twenty-two), so we thought long and hard about whether to baptize Elizabeth now, or whether to wait until she was old enough to make the choice on her own.
Anglicans believe that baptism is a sacrament (ie "an outward and visible sign of an inward and spiritual grace"). In particular, baptism symbolically demonstrates the death of sin and new birth into righteousness by the power of the Holy Spirit.
The Anglican Catechism reads in part:
Catechist. What is required of persons to be baptized?
Answer. Repentance; whereby they forsake sin, which separates them from God: and faith; whereby they stedfastly believe the promises of God made to them in that Sacrament.
Catechist. Why then are infants baptized?
Answer. Infants are baptized so that, being received into Christ's Church, they may grow in grace and be trained in the household of faith.
Catechist. How can infants promise repentance and faith?
Answer. Their Godfathers and Godmothers make the promise for them.
Catechist. When do they take this promise upon themselves?
Answer. When they are confirmed by the Bishop and, through prayer and the laying on of hands, are strengthened by the Holy Spirit.

Our priest likes to say that infant baptism is a bit like giving your child a cheque for a large amount of money. In order to "own" the money, the child still has to go to the bank and cash it. There is no guarantee that baptizing your child will make them a Christian, but it is a public declaration by us as parents that Elizabeth is a member of the body of Christ and that we will bring her up accordingly. It is also a symbol of God's faithfulness. It is not about what we do, but rather what God does.
Elizabeth was extremely well-behaved, despite still feeling under the weather and having had a very rough night the night before. She even let mom sit down during Grandpa H's sermon!
After the ceremony we dropped by the Ottawa Midwifery Group's Annual Picnic, then headed home for a baptism celebration party! Neighbours, church family, family members, sailing friends and other friends all dropped by to congratulate Elizabeth. We were especially blessed to meet cute baby Aiden for the first time.

Having reached this great moment Mom and Dad felt greatly relieved to pass on the joy of bringing up Elizabeth over to Godparents Dave, Karen and Rachel. Especially since she was making some interesting digestive noises. Unfortunately, Uncle Dave was quick to point out that he was there to provide spiritual guidance only and "There is nothing spiritual about changing diapers"...
You might also like
- Healthy Girl
(0.416956)
- Dovercourt
(0.407407)
- 2 month checkup
(0.407407)
- Doors Open: Robert O. Pickard Environmental Centre
(0.407035)
- Great Grandma Funeral
(0.405966)
All