April 11, 2013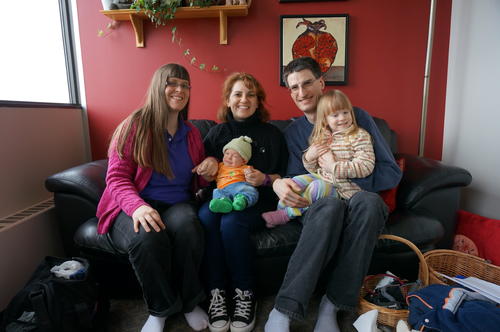 We had Matthew's last appointment with midwife Laurence today. Matthew weighed 4.9 kg (10 lbs 13 oz).
The appointment itself was rather uneventful - Matthew is obviously growing fine and I feel great. I had assumed that one implication of my repeat c-section was the end of midwifery care (in the unlikely event that we are blessed with another child) as I've been told that further children will have to be delivered by c-section. So we were surprised to hear Laurence say that we could still opt for midwifery care in the future, space permitting. Of course women who aren't planning to transfer to an OB for the last week of the pregnancy would get preference, but I was very pleased to hear that midwifery care isn't automatically ruled out.
There is no question that my recovery was easier this time due in part to being able to come home earlier. There is also no question that I could not have checked out of the hospital so soon without Laurence's help.
1
On April 25, 2013 at 08:58 am
Grandpa H
said:
Nice pix! I think I am going to start praying for that "unlikely" event... :)
You might also like
- Home
(0.351036)
- Number 3
(0.347985)
- 18w 5d
(0.343681)
- Cottage Arrival 2019
(0.335121)
- Surgery date
(0.333874)
All