April 15, 2013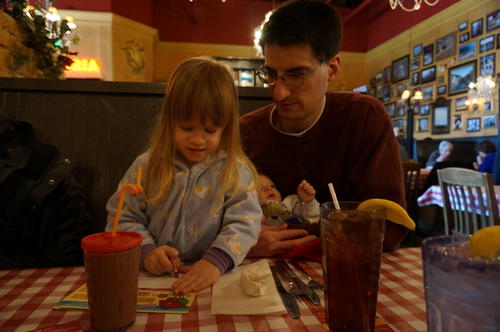 We stopped at Matthew's first restaurant on the way back from Toronto. It took us eleven months to work up the courage to do that with Elizabeth. Her first restaurant was the Foolish Chicken. Matthew's was East Side Mario's. He didn't scream, so we considered it a success. We'd even take him out again, though perhaps not during cranky hour.
1
On April 24, 2013 at 08:26 pm
Daddy
said:
To be fair he didn't eat anything so it isn't exactly a comparable experience. Nonetheless no screaming does make for success.
2
On April 25, 2013 at 09:12 am
Jessica
said:
East Side Mario's! Remember when we went there on that Stratford field trip? And we thought that it would be Mexican for some reason...?
You might also like
- Christmas Cake 2013
(0.322857)
- Ice Cream Potluck
(0.297645)
- Amelia meets Evelyn
(0.296196)
- Brendan and Mommy-dear
(0.295775)
- Good Friday
(0.292982)
All