April 13, 2013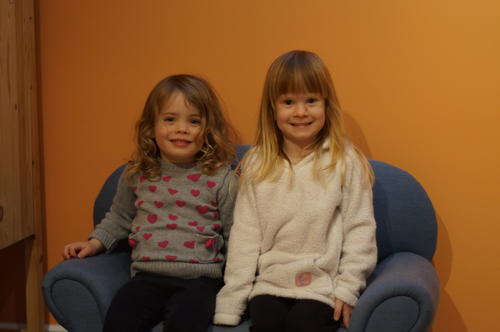 After a brief visit with second cousins Lindsay and Anna, their parents Lauren and Donna, cousin Ryan and Great Aunt Muriel, we continued onto Wellesley.
Since Elizabeth didn't nap, we entertained her with music and stories on tape. We're particularly fond of some of the classic fairy tales from Rabbit Ears Treasury ("Billy Goat for breakfast, Billy Goat for lunch. Billy Goat, Billy Goat, munch munch munch..." "Sensing a trend, the wolf was on the prowl for little pigs...") We also started reading Arabian nights, but Elizabeth wasn't particularly excited. "Mom - I'm DONE with that story. Does it end?" The Lion, the Witch and the Wardrobe met a similar fate.
So we played classic car games. Our favourites:
I-spy
We play two different variations now. The standard one with colours, and my not-so-sneaky "educational" version "I spy something starting with the sound /k/". It's a bit tricky playing with Elizabeth because she sometimes changes her mind about what she's spying. Especially if we guess too soon...
Alphabet game
We play a simplified version "I have a friend named Anna and she likes Alligators". Elizabeth had some trouble thinking of animal names starting with the right letter. She insisted on having the letter N so that she could talk about her friend Nora. Nora likes noodles apparently.
20 Questions / Animal, Mineral, Vegetable
We've only introduced the idea of guessing an animal by asking questions. We discovered that Elizabeth thinks chickens have four legs...
1
On April 24, 2013 at 09:24 am
Jessica
said:
Nora does like noodles! Good call, Elizabeth!

Miss you guys... we'll be up for Thanksgiving, but that's a long ways away.
2
On April 25, 2013 at 08:12 am
Grandma H
said:
Hmm, I may have missed that classic...but love the rhythm & sounds! No wonder it's a hit.

About chickens, Elizabeth has company. Did I tell you about the lady who insisted the butcher give her 4 legs for her chicken during war years?
3
On April 25, 2013 at 09:04 am
Grandpa H
said:
When I was small, changing your mind during an I-spy game was called cheating... ;)
You might also like
- Language Development
(0.367513)
- Amelia 21 months
(0.366285)
- 22 months: Little Helper
(0.366279)
- Virtual School: Week 37
(0.365731)
- Je d'école
(0.364068)
All