April 21, 2013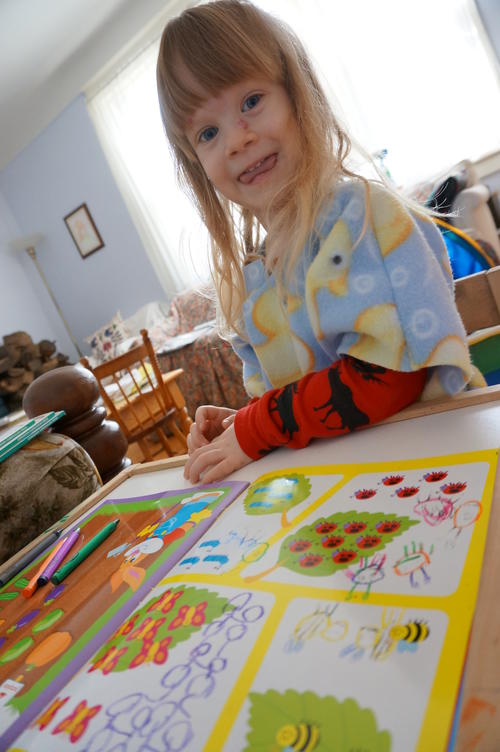 We've been more or less homeschooling Elizabeth for the last couple of years (yes, I am aware that she is only four).
As part of our homeschooling routine I discovered that Elizabeth really, really likes busy work. Seems to me that practicing letters is more effective and fun in the context of "real" stuff like writing birthday cards, but while she likes writing birthday cards, Elizabeth adores writing out sheets of upper and lower case letters.
I discovered some pretty good workbooks at Staples published by Canadian Curriculum Press ("Reading", "Writing", "Math"), but Elizabeth's current favourite is a wipe off the answer when you are done addition book. I kind of wish I'd gotten markers instead of expensive erasable crayons that break and don't always write, but since Elizabeth finds erasing stuff half the fun she's a big fan.
When Matthew was born Elizabeth suddenly morphed into this huge kid with a giant head, and it turns out that she has acquired all these new skills to go along with her new giantness. Like being able to unlock our front door. Use a mouse to drag and drop items on the computer. Figure out basic math problems and draw recognizable bees...
1
On May 9, 2013 at 08:46 am
Grandpa H
said:
She probably won't always be bigger than Matthew, but she will always be older :)
2
On May 11, 2013 at 08:42 am
Big Sister
said:
Buzz, buzz, buzz
You might also like
- Fifteen months
(0.362715)
- Homeschool wk may 19-22
(0.362603)
- FIVE
(0.356219)
- Virtual School: Week 8
(0.352571)
- Surprise
(0.349036)
All