May 11, 2013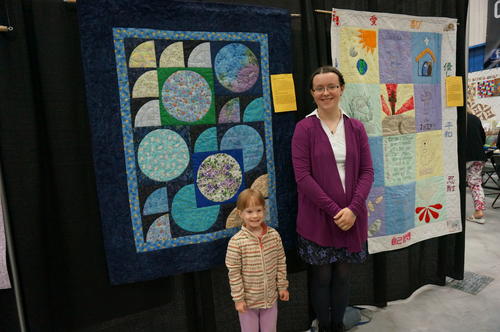 I had another quilt in this year's quilt show - but only because Auntie Janice entered the quilt we made for Erika seven (SEVEN??) years ago. Auntie Janice entered three quilts this time - she and Elizabeth are standing in front of two of them (the third is the Christmas banner). Auntie Janice treated mom, Elizabeth and I to the entrance fee and we spent a very happy couple of hours admiring many, many quilts. We got to vote on our favourites and try out a really fancy quilting machine. I wish I had a large room to dedicate to it; as the vendor commented, it's not the price tag (12000) that deters people as much as the requirement for space. It doesn't fold! But even Elizabeth was able to make fancy stitching - it's totally cheating! The hard part is apparently keeping the stitches even.
Elizabeth's favourite quilt was the "one with all the tractors". I liked the red and black fireworks one, although I was quite impressed by the white quilt that took 18 years to complete (that's dedication). I also want a quilted jacket like the one with the lighthouse and pelican on it!
After looking at all the beautiful quilts at the show, I feel inspired to start another project (or maybe finish something!)
Elizabeth came right home and made her own "quilt" show. She drew her quilt front and back on a piece of paper, taped it to a chair and then carefully showed us both sides wearing gloves.
You might also like
- 19th Annual Gingerbread Party
(0.389173)
- Spartan Race
(0.376168)
- Christmas
(0.375144)
- Party
(0.374337)
- A shower and the Great Glebe Garage Sale!
(0.373887)
All