May 5, 2013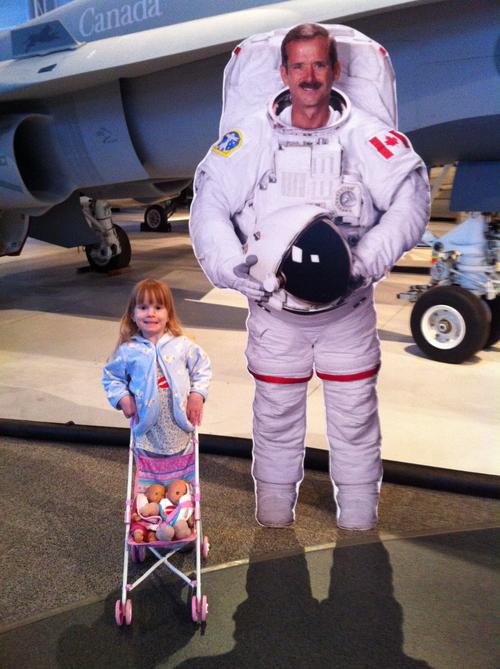 We've been to the Aviation and Space Museum quite often, but we've never actually been present for one of their children's tours (we try to time our arrival or departure with tour guide Auntie Janice in order to give her a ride to or from home).
Today Janice was interviewing to lead their amazing summer camp program, so Elizabeth got to try out the "Mail must Fly" tour! Elizabeth was lucky enough to be the only kid on the tour (Matthew doesn't count). She had a blast running around to find the various planes, "mailing" a letter at each stop and then getting a special stamp in her little booklet.
Elizabeth was also very pleased to get her picture taken with Chris Hadfield, who is probably the only public figure that she knows by name, other than her friend Stephen Harper. She doesn't beg to watch videos of our prime minister though... Our favourite Chris Hadfield video so far is "Wet Washcloth in Space". So cool!
You might also like
- Space Bubble
(0.356071)
- How my garden grew
(0.353007)
- Guided Tour
(0.352313)
- Pregnancy Announcement
(0.351285)
- Christmas adventures
(0.350706)
All