May 19, 2013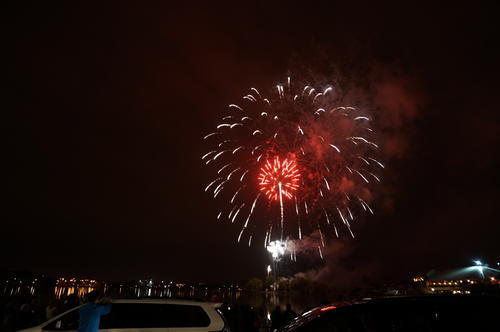 I love fireworks, but have found having small children has seriously interfered with my opportunities to see them. Something about small children needing sleep and reluctantly concurring that hubby has a point when he says that 10pm reduces ours to hysteria...
The Victoria day fireworks are just around the corner from us though and they start an hour earlier at 9pm. The last three years we've watched them from the bathroom. I decided I just couldn't bear to see them from a precarious perch on the toilet this year, so we put Elizabeth to bed slightly early. Then we bundled Matthew into the sling and Elizabeth into the stroller and I GOT TO SEE FIREWORKS!!!

It was lovely, aside from the cars that decided to park on the driveway. I still don't understand why traffic control didn't move them along, but things got rather crazy. The fireworks had some technical difficulties getting started; just as well because it took Elizabeth a full half hour to wake up. She loved it, though it's hard to say which she enjoyed more: fireworks or riding in the stroller (normally forbidden because she's really too big and she'd otherwise refuse to use her feet).
And I GOT TO SEE FIREWORKS!!!
1
On June 11, 2013 at 11:02 pm
Rachel @ Grasping for Objectivity
said:
Yay for you!! I agree - kids definitely interfere in the fireworks. Because if you do keep your kids up way past their bedtime to see such things, then you're just asking for them to have a meltdown at the noise. Ask me how I know.
You might also like:
-
Recital, Home Depot, movie night
-
Matthew's first skating class
-
Three under three
-
Camp Otonabee
-
Crystal Gardens