May 25, 2013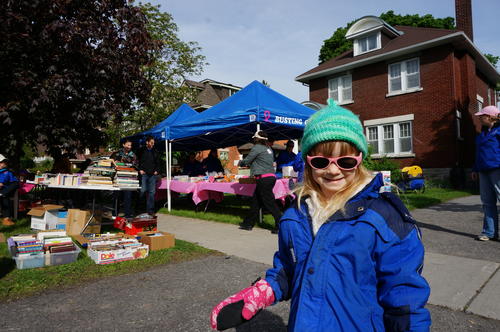 We had lots of folks selling things on our lawn again this year. The ladies in pink had their books and baked goods; Auntie Janice was making her earrings; tenant Jesse sold some of his things in preparation for his move to Waterloo; Auntie Heather spent some time decluttering and had a huge van-load of stuff.
We wandered around admiring the guy juggling knives, numerous musical groups (guitar! harp! pan flute!) and lots of items that MUST have a story. I don't really like collecting stuff from garage sales, but I am an object-based history fan. (Do you like to know the stories behind stuff? Check out the Permanent Record blog!) Some of the things we saw: a Rolls Royce baby carriage from the early 1970s sold because all of the children that used it wanted "one of those SUV strollers" instead. Forty old pipes?!? I didn't even know they made pipe stands... I had that exact same model of coaster gear bicycle, and I sold mine at the Great Glebe Garage sale more than a decade ago. But I didn't ask (or receive) $150 for it!
Elizabeth was disappointed that she didn't find any plasma cars for sale. She's been saving her pennies for many, many months so she can buy one. And yes, I know we phased out the penny here in Canada but it's still legal tender and convenient payment for work time...
Elizabeth declared her intention to sell something ("maybe lemonade or hot chocolate") next year.
You might also like
- Great Glebe Garage Sale
(0.380631)
- Party
(0.36166)
- Happy Hearts for CHEO 2.0
(0.361361)
- Good Friday 2015
(0.361032)
- Musical Breeze
(0.360526)
All