June 2, 2013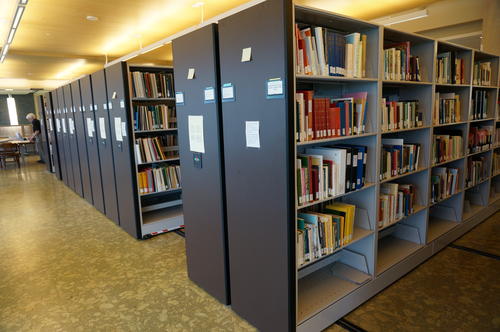 Elizabeth was invited to her friend Marie's birthday party in the afternoon, so we only had time for a quick visit to a Doors Open Ottawa venue in between church and Marie's house.
Daddy had deemed the James Bartleman Archives and Library Materials Centre as the most boring possibility on our list, but I thought seeing the library distribution centre might be interesting, since we request a lot of materials. Unfortunately we listened to the volunteers and visited the public archives on the third floor instead. (I asked what they thought Elizabeth might find most interesting given our short time frame)
Elizabeth was happy to move the automated book shelves around but she was not exactly thrilled by old fragile books, even if some of them did have pictures, as promised... Brendan and I found it neat though! Old maps, railway guides and books containing lists of everyone who lived at a given address in the city by year (And we are totally going back next year to see the library sorting part)
Elizabeth was happy to move on to her Teddy Bear picnic party, complete with bouncy castle and cake and stuff. In the evening Brendan and I celebrated our anniversary en famille with (gluten free) Italian food from La Dolce Vita delivered to our house and a homemade brownie baked alaska dessert. Elizabeth was amazed that the ice cream didn't melt in the oven.
You might also like
- Train!
(0.386792)
- Doors Open Ottawa: Barber Carving & Sculpture Inc
(0.376608)
- Party
(0.372589)
- All Saints and GNAG Halloween Party
(0.371643)
- Elizabeth's 9th birthday party
(0.369863)
All