June 13, 2013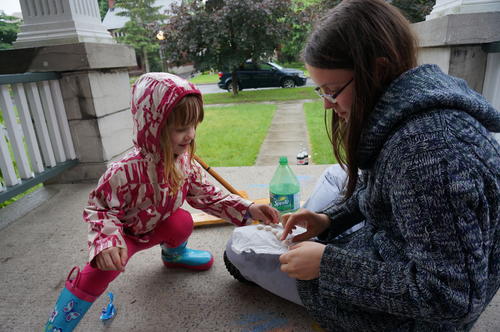 Auntie Janice and Elizabeth have been doing lots of messy science lately.
Right now they are perfecting an experiment that Auntie Janice is going to do for the Canadian Aviation and Space Museum summer camps this summer. If you are in the Ottawa area, with kids ages 6-12 and are looking for a great camp - these look really fun! And really, how can you go wrong with Auntie Janice in charge?
Janice has collected an epic number of pop bottles and the neighbours have started preemptively moving their vehicles further down the street as the experiments have gotten more and more successful. I think the record is 61 feet, using baking soda and vinegar.
You might also like
- Airplanes
(0.347826)
- What's in a name?
(0.302849)
- Space Bubble
(0.297839)
- Braking Leaves
(0.296552)
- Great Glebe Garage Sale
(0.295866)
All