June 11, 2013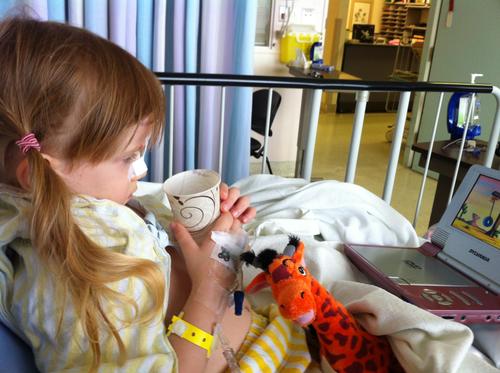 As soon as we committed to going ahead with Elizabeth's surgery, Elizabeth began to tell everyone all about how she was going to get her birthmark off so she could have glasses and matching faces. At least I hear that's what she told everyone else. Mommy was bombarded with pleas to get to keep her "bookmark". Careful questioning revealed that she was concerned the surgery was going to be "ouchy" and full of needles. We reminded her that no needles were involved and she was going to be asleep. She countered that a knife to cut open her face sounded pretty bad. The more she talked about it, the more anxious we ALL got.
So Auntie Janice wrote Elizabeth a story about her surgery that we recited over and over in the days leading up to her surgery.
"When it's time to take the bump off your nose... You will go to the hospital with mommy and daddy. Matthew will stay with Grandma.

The day before they'll give you instructions to get your body ready for the surgery. Instead of having cereal for breakfast, we're going to eat Jello so that your tummy won't get upset during the surgery. [We had two kinds of jello. Elizabeth got sick anyway.]

When you arrive at the hospital, you'll sign in at the admissions desk. [CHEO has bears everywhere. This helped distract Elizabeth. We brought along things to do and books to read but turns out that the children's day surgery unit has a dedicated play room and staff to occupy the waiting time. Toys, TV, crafts etc]
They will give you a special bracelet with your name, and sometimes a special card, too. [Alice Gerri the Giraffe got a special sticker too]
Then you get to change your clothes into a special hospital gown.
Mommy or Daddy gets to hold your hand, you get a mask, and it's a sleepy mask [It had a special fruit smell. Elizabeth said it smelled like marshmallows]. Everyone waits until you're completely asleep. [This was the longest thirty seconds of my life]

Everyone in the surgery will wash their hands, and they'll even wash your face to make sure everything is very clean. Then the surgeon takes the bump off, and they put a special band aid on.

When you wake up, mommy and daddy will be there with you, waiting for you to wake up. You might feel a bit dizzy and funny, while the medication to make you sleepy wears off. [They gave her a popsicle, apple juice, water and a Winnie the Pooh video. After she threw up all over Mommy, they gave her gravol too]. Then, when you're not dizzy and the doctor's say it's ok, they'll say 'ok, you can go home now' and you'll get to go home!

At home, your nose might feel a bit funny for a little bit, but then it won't have a bump on it anymore! You might have to be careful for a few weeks, and not go swimming or parachute gliding for a little while."
She was pretty subdued at first, but by evening she was bouncing off the walls. Mommy and Daddy were seriously relieved when we got her safely to bed without splitting open any stitches.
You might also like
- Umbilical hernia repair
(0.449822)
- Karate Tournament, Birthday and ER Part 2
(0.429704)
- Amelia is ONE
(0.428787)
- Michael Gabriel
(0.417878)
- A beanie boo birthday party
(0.417424)
All