June 12, 2013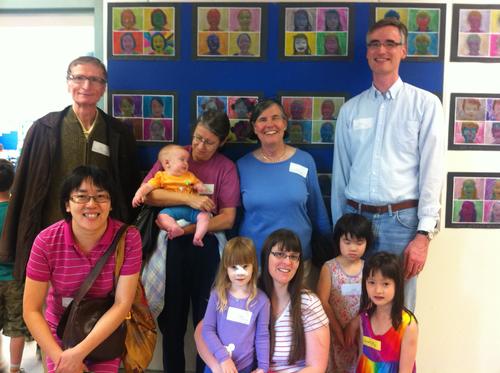 Elizabeth has been going to a half day bilingual program once a week (Jacques et Jill offered via Sunnyside Community Centre aka "her preschool") and the last day happened to be the day after her surgery. I'd told beloved teacher Aletha that Elizabeth might not make the last day and the resulting meltdown had me promising that we'd try to drop by to say goodbye at least.
We started going to this program because cousin Maria was looking for some company and we figured Elizabeth could use the extra exposure to French. Elizabeth loved it so much that she continued even after Maria stopped going this spring. We were told to expect so much swelling post surgery that Elizabeth's eye might swell shut, but luckily Elizabeth woke up feeling fine and keen to get to preschool.
Daddy told her "no running" and I gather they even changed their regular gym time so that Elizabeth could still participate. After preschool Erika invited us to her art show and play "Les trois petits cochons". I still can hardly believe that Erika is finished grade 1!
Erika was the narrator, which involved a great deal of memorization. She was impressive! The play was hilarious as these productions often are. My favourite part was the brick house that kept falling over to the teacher's obvious distress as she muttered "that's the one house that needs to stay up!"
Those of you that want to see the video, lemme know and I can hook you up!
You might also like
- Matthew's first skating class
(0.375258)
- Preschool duty days
(0.372165)
- Family Day
(0.372067)
- La lièvre et la tortue
(0.371574)
- Art Day
(0.370821)
All