June 25, 2013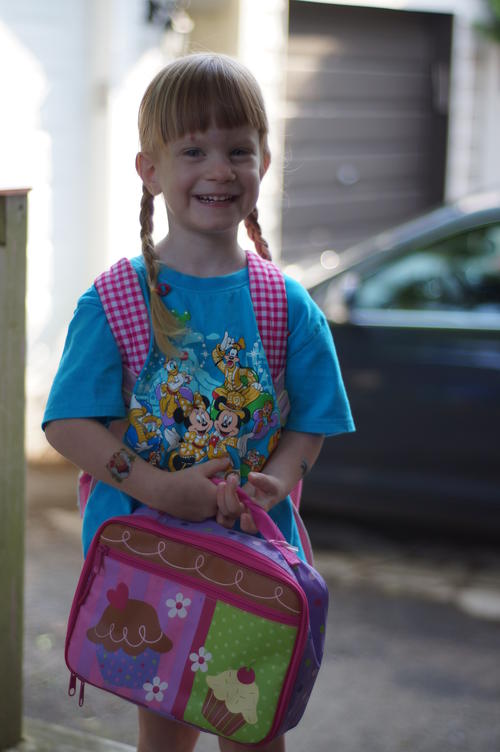 Elizabeth had her first day of school today. She's attending the "Je d'ecole" program - a half day transition to school program that takes place over five weeks during the summer.
Some of you know that we've been homeschooling her up until now and may be surprised to learn that Elizabeth is attending full day kindergarden at FrancoJeunesse in the fall. I have really enjoyed the homeschooling. I don't think that Elizabeth's "socialization" has suffered at all. She may have a little separation anxiety in new situations but we are quite sure this is a function of personality, rather than lack of opportunity to meet other people! Given enough time to warm up we have seen her thrive in numerous different groups.
The reason we decided to enroll her in school is that our list for what we want Elizabeth to learn by the age of reason includes becoming fluent in French. I investigated what is available within the anglophone homeschooling community and unfortunately the options are limited. We've been speaking French with her for one meal a day and going to the excellent program at Marius Barbeau. But she's the oldest kid at Marius Barbeau by about a year and it was clear to us that she needed something more.
1
On July 21, 2013 at 11:25 pm
Yukiko
said:
Auntie Yukiko is very happy to see that Elizabeth's backpack and T-shirt which went to her first school day were the presents from me. :D We shall do French/Japanese language exchange, Elizabeth!
You might also like
- French Class
(0.38)
- French class
(0.378768)
- River Oak
(0.367448)
- Weather board
(0.36695)
- Je d'école
(0.360558)
All