June 16, 2009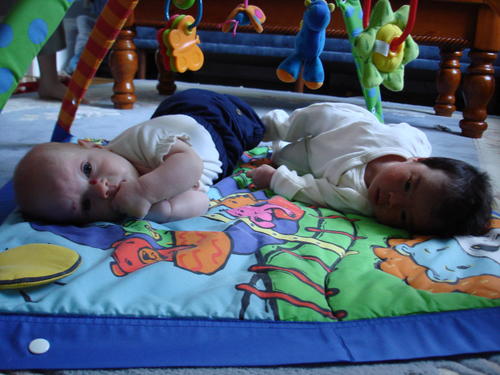 Cousin time! Elizabeth and I went to visit Uncle Chris, Auntie Yukiko and cousins Erika and Maria this afternoon. We came bearing many vegetables - so many that Elizabeth actually had to ride in the sling. As other people crossed us on the way, they all tried to see whether I had a second child riding in the stroller I was pushing and seemed confused when they noticed that it was full of cauliflower, broccoli, mushrooms, asparagus, vegetable greens etc etc.
1
On June 17, 2009 at 12:38 pm
Yukiko
said:
Hahaha!!

People might think "Oh, she delivered the human being and the vegetables!"

Anyway, thank you very much for bringing your second child ... :P aka, the vegetables! We enjoyed them very much!
You might also like
- Easter Sunday
(0.323471)
- Family skate
(0.297665)
- Thanksgiving
(0.294224)
- Bikes
(0.291262)
- Sailing time!
(0.289773)
All