July 26, 2013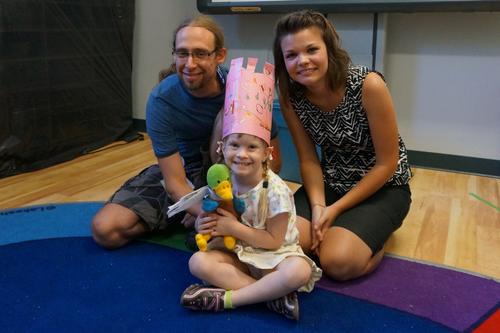 Today was the last day of Elizabeth's "Je d'école" program. Intended to help kids transition to full day french.
Every day, Elizabeth came home speaking a little more French. We noticed a remarkable increase in the complexity of sentence structure used and increased vocabulary over the course of the program.
She was excited to go to school, but turned into a clingy limpet as soon as I tried to head out the door. There was a schedule in pictures on the wall which we looked at and that seemed to help. The second or third day was particularly bad with her wrapping her fingers painfully around my hair and hanging on so that I couldn't leave while crying that she wanted to go home, she'd go back to bed and be quiet if only I would let her come. Of course I was late for a meeting that day so I extricated myself and had teacher Simon hold her to make my getaway. Definitely a low moment, although at home that night she boasted she hadn't cried at all to Daddy! By the end of the five weeks that seemed to be true. She never wanted to go home at the end of the day either. Sometimes on the way home she cried and demanded to go back to school. I found it helped if I promised to wait a few minutes on the stairs - apparently not knowing when I was leaving exactly helped her "decide to be happy".
We were encouraged by her reports of having "too much fun". There was playdough, crafts and paint. Gym time as usual was a particular highlight. Turns out they have plasma cars at her school. One day she excitedly came home with news that she got to move the DUCK! We eventually figured out this was a marker on the schedule in pictures.
The first week she made a new friend every day (and she kept count). This is probably some kind of developmental milestone, because until now she has always referred to all kids that she meets as her friends whether she has made eye contact with them or not. Now she distinguishes between friends and kids who aren't her friends yet using some mysterious criteria not shared by or unduly influenced by parents. "Want to know the way I made friends with Shaunessy, Mommy?" she asked one day "She helped me put on a butterfly costume! Then we were friends."
The two teachers Simon and Marie Pier were fantastic. Elizabeth talked about them at home a lot, especially Simon who had an extremely big collection of hats and tails. We worked hard to get Elizabeth to tell us about her day after school with varying degrees of success. Over the course of the program she did seem to slowly get better at telling us about her day and what she did. Overall we would say that the program was a great success and that we are very grateful that such a program is available. We were sort of dreading the transition to full day school, but now feel that this was really the missing link. Elizabeth certainly both learned a lot and thoroughly enjoyed herself.
You might also like
- 18 Months
(0.469165)
- Virtual School: Week 20
(0.46383)
- Virtual school: Week 3
(0.457912)
- Home
(0.455954)
- Elizabeth
(0.454086)
All